Box beam welding production line
As the development of steel structure market, box-beam will be used more an more widely in many fields like bridge, power station,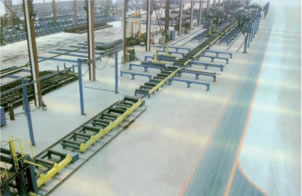 boiler and high building etc. This production line is proceeding from technological point such as lay-off cutting, manufacturing groove, assembling clapboard inside, U style assembling, box assembling, electro-slag welding, box welding, manufacturing edge face, shot blasting and so on.. Meanwhile, equipped with the main process equipment, box-beam is always big and heavy, so we must add the conveyer by roller and steel conveyer turning-over equipments to realize the part of automatic operation in the process of technical production. We can produce gate form and cantilever form, depending on the customers' requirement.




Main Technical Parameters:
| | |
| --- | --- |
| Box Beam Width | 300-1200mm |
| Box Beam Height | 300-1200mm |
| Box Beam Length | 4000-15000mm |
| Thickness | 20-60mm |
| Box Beam Weight | ≦20t |
| Annual Capacity | 1200t |
1. XJZ Series Baffle Assembling Machine
2. XQ12 Tandem Twin Gas-Shield Backing Welding Machine
3. Box Beam Assembling Machine
4. XD12 Column Beam Electro-Slag Welding Machine
5. LHF Column Beam Tandem Twin Machine
6. End Face Milling Machine
7. XBJ Series of edge Milling Machine
8. YFJS-20T Steel Conveyer Turning Over Machine
9. YGJ-15 Steel Moving Machine
10. 90°Hydraulic Turning Over Rack
Lay-off
Beveling
Marking
Assembling reinforcing plate
Installing
Clearaway the electroslag feeder
BOX electro-slag
Welding
Box-beam 90°plate
overturning
BOX assembling
U assembling
BOX welding 1
BOX welding 2
Correcting
Milling edge face 1
Milling edge face 2
Packaging for leaving factory
Weld connecting plate according to practical
Weld flange according To practical
By absorbing merits of similar box beam production line and using new technology from abroad and China domestic, Shanghai Salei is the professional producer to develop and manufacture the family box beam production line products including H-beam (light steel, heavy steel), T-beam welding production line, bridge-face U-stiffer welding production line, and steel structure cold roll forming production line as well as CNC waterjet cutting machine. With years development, Salei box beam production line have been spread over Saudi Arabia, Russia, Middle Asian, Southeast Asian, Australia, Europe, South American, North American, etc. Look forward to establishing mutually beneficial cooperation.
Related Products
H Beam Welding LineThe H beam production line consists of assembling machine, front welding machine, turn-over device, back welding machine and H beam...
T Beam Production LineThe T beam welding production line is suitable for building the ship hull structure. The complete process of our T-beam production line is...