Heavy Steel Assembly Machine
Description:
The heavy steel assembly machine is common used welding equipment. The steel assembly line is making up of machines like, welding machine, position-fixing machine and a conveyor. Products that welded on this line are mainly used as columns or beams, section materials in construction or structured buildings. The producing process is that: fixing the position for the web and two wings of H-profile steel, then the welding machine can automatically localize, clamp, and adjust, weld and transport the finished product.
There are tow types of steel assembly lines in our company, introduced as follows:
1. HG-2000II H beam Heavy Steel Assembling Machine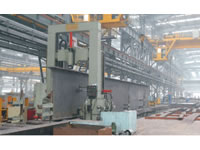 This machine is technically developed for heavy and high H beam assembling spot-welding, based on HG-II assembling machine. The characteristic of this machine is that the adjustment of the press wheel's height is managed by screw rod that driving the screw nut to make high H beam easily.
Main Technical Parameter:
| | | | |
| --- | --- | --- | --- |
| Height of Web Plate | 200-2500mm | Width of Flange Plate | 200-1000mm |
| Thickness of Web Plate | 6-60mm | Thickness of Flange Plate | 6-100mm |
| Length of Web Plate | 4000-15000mm | Length of Flange Plate | 4000-15000mm |
| Assembling Speed | 500-6000mm/min | Welding Speed | 500-1200mm/min |
| Total Power | 13kw((not including Welding Machine) | | |
2. HG-1500III H-beam Middle Spot-welding Assembling Machine
HG-1500III middle spot-welding machine uses automatic spot-welding in the middle, and makes use of transmitting positive and negative screw rod synchronistically during the process of centering automatic of single group clamping organ. It uses several dynamic systems to actualize centering successively among the same kind of centering organ.
Main Technical Parameter:
Size of Web Plate
Height
200-1500mm
Thickness
6-32mm
Length
4000-15000mm
Size of Flange Plate
Width
200-600mm
Thickness
6-40mm
Length
4000-1500mm
Welding Speed
500-1200mm/min
Total Power
13Kw (Except for Welding Power Source)
Straightening Speed
500-6000mm/min
By absorbing merits of similar heavy steel assembly machine and using new technology from abroad and China domestic, Shanghai Salei is the professional producer to develop and manufacture the family heavy steel assembly machine products including H-beam (light steel, heavy steel), T-beam welding production line, steel moving machine, and steel structure cold roll forming production line as well as CNC waterjet cutting machine. With years development, Salei heavy steel assembly machine have been spread over Saudi Arabia, Russia, Middle Asian, Southeast Asian, Australia, Europe, South American, North American, etc. Look forward to establishing mutually beneficial cooperation..
Related Products
Hydraulic Turning MachineThe hydraulic overturning machine is a kind of common welding equipment that used to turning heavy steel H-beam and box-beam or moving...
Cantilevered Welding MachineThis cantilevered welding machine is a kind of double cantilever submerged welding equipment. The machine adopts double arc and double wire...